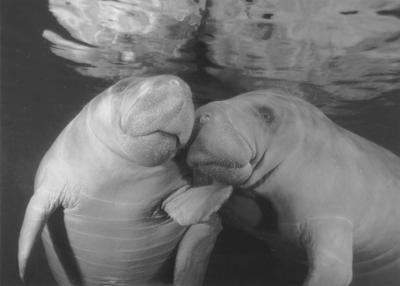 I first found out about manatee adoption from CutestThingEver, one of my favorite cute stuff sites.
O to the MG! Too cute! I immediately clicked on the manatee adoption page, and found to my delight that you can adopt a specific manatee! They have manatee glamour shots from three different places. Manatee porn! But it is cute manatee porn, not silly manatee porn.
Most of the manatees have normal names like "Nick" and "Lucille" but the one that stole my heart was "Deep Dent." Good ol' Deep Dent – he has a deep dent in his tail from (you guessed it) a motor boat. Too tragically funny!
Here he is. Isn't he cute? They say, "Deep Dent is a medium-sized male who first showed up at Blue Spring in 1979. He has a deep, 'dent-like,' propeller wound on his tail." There are other cute ones like Flash, who "is shy of human contact and will take off in a 'flash' when disturbed." Or Lenny: "Lenny is the resident 'couch potato' manatee, preferring rest to all other activities." Who doesn't, man?
The BEST part? For a $35 donation, you get a plushie manatee on top of a photo of your manatee, an adoption certificate, a membership handbook, and four newsletters throughout the year with updated reports on your adoptee.
I'm going to be running to my mailbox every day from now on so I can snuggle with my plushie. Maybe someday I'll go to Blue Spring and visit DD. For now, I'll have to settle for some 2006 Holiday Cards. Score!
Click here to adopt your own manatee